Title
Korea Tour Card allows more convenient travel for tourists in commemoration of Visit Korea Year
Korea Tour Card allows more convenient travel for tourists in commemoration of Visit Korea Year
- All-in-one card for public transport, shopping, tourism and entertainment
- On sale at convenience stores, international flights and railway stations
On January 23, the Visit Korea Committee released the Korea Tour Card for foreign tourists to make use of public transport more easily and conveniently in Korea.
Developed by the Visit Korea Committee and Korea Smart Card, the Korea Tour Card is expected to provide foreign tourists with a more convenient way of traveling in Korea. Card holders can not only use public transport, but also enjoy discounts on travel, shopping and performances from a total of 25 companies.
Major benefits given to card holders include discounts on admission tickets to museums and theme parks, discounts on popular brands and giveaways at department stores, shopping malls and duty free shops, discounts for the K-pop Hologram Zone, Korean food cooking classes, Korean traditional costume studios, and non-verbal art performances.
With a one-time purchase, these benefits will last until the end of the 2016-2018 Visit Korea Year campaign. Tourists wishing to visit regions outside of Seoul can continue to use the card on local public transport.
The Korea Tour Card, which goes on sale as of January 23, is available on 40 Jeju Air international flights, travel centers (Incheon International Airport, Seoul Station), and 7-Eleven convenience stores in the Seoul metropolitan area and on Jeju Island.
Han Kyung-ah, Secretary-General of the Visit Korea Committee, said, "We hope that the Korea Tour Card, launched in celebration of the 2016-2018 Visit Korea Year, will soon be widely used by tourists. We plan to expand the number of affiliated businesses so that foreigners visiting Korea can enjoy greater benefits, including public transport services."
The Korea Tour Card can be used like the general T-money card. After charging the card at convenience stores and subway stations, tourists can use the card on subways, buses, taxis, express buses and trains, and receive discounts at affiliated businesses. Further information on discounts in provided in the official website.
(http://www.koreagrandsale.co.kr)
For inquiries, please contact Park Hye-geong, Marketing Team (+82-2-6272-7318 / tina@vkc.or.kr)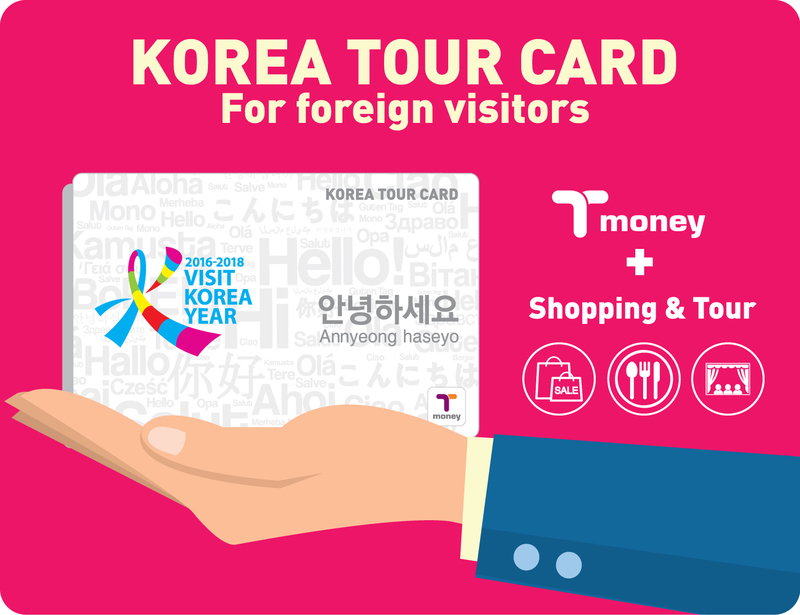 <Korea Tour Card>
<A foreign tourist poses with the Korea Tour Card>