Get travel information in your own language while traveling in Korea!
Smart Help Desk, a multilingual smart tourist information system, is the answer to your travel needs.
As the ultimate travel assistant, Smart Help Desk not only provides information on major tourist attractions and festivals, but also covers shopping, transportation, restaurants, and emergency guidelines.
You can even make phone calls, free of charge, for real-time reservation and communication.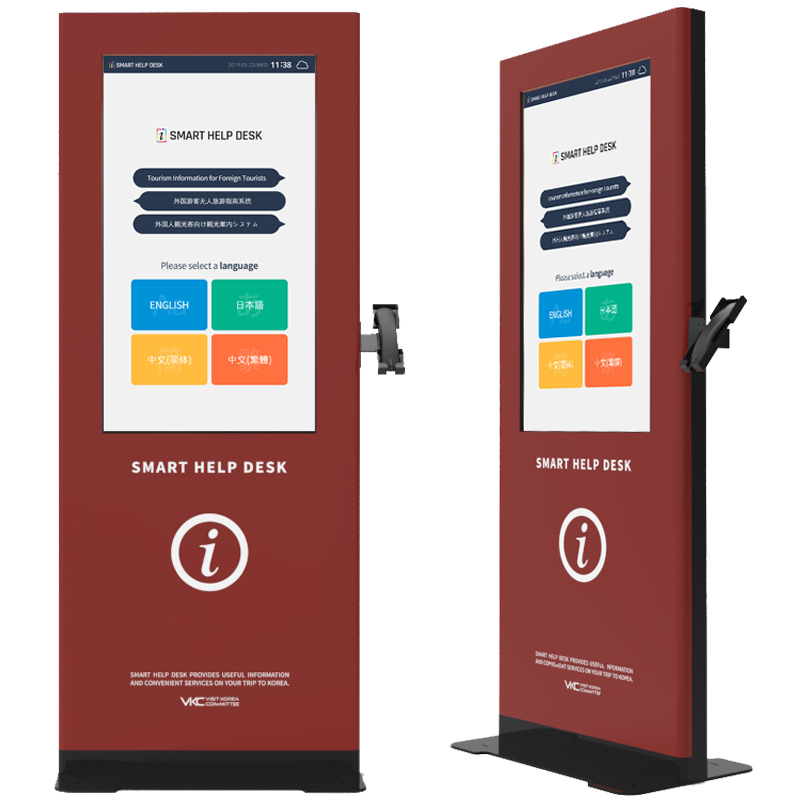 Location-based services
Guide to major tourist attractions, transportation routes (public transportation, vehicles, walking), and subway map search service.
1330 Korea Travel Hotline
1330 call service for travel interpretation information, available 24 hours a day.
International Taxi
Taxi reservation service for foreign tourists.
Restaurant
Restaurant reservation service.(recommended by Seoul Tourism Association)
Tourist Information
Information on tourist attractions / shopping / traditional market in Seoul and gouide for national festivals
Convenience Services
Information on Transportation Card / Luggage Storage Services / Exchange Rate / Embassy / Emergency Response
Show Leaflet
A leaflet containing various information on travel in Korea provided in QR code form.
Survey & Coupon
A variety of discount coupons are provided if you participate in 3-minute survey.
Smart Help Desk is available at major tourist attractions in Seoul, Incheon, and Gyeonggi.
TRANSPORTATION
Gimpo International Airport Arrival lobby
Seoul Station
Incheon International Airport Terminal 1, Arrival Hall
Central City Terminal
SHOPPING & CONVENIENCE STORE
Lotte Duty Free Main Store,
Lotte Duty Free World-Tower Store
AKAND HONGDAE
7-ELEVEN The Chinese Embassy in Korea branch,
KT Gangnam branch
BANK
SHINHAN BANK Myeondong branch
WOORI BANK Myeongdong Financial Center branch
HOTEL
Novotel Ambassador Seoul Gangnam
Le Méridien Seoul
Best Western Premier SEOUL GARDEN HOTEL
ATTRACTIONS & ACTIVITIES
TRICKEYE MUSEUM
Imjingak Observatory
EVERLAND Guest Service Center
RESORT COMPLEX
PARADISE CITY
Smart Help Desk is available at major tourist attractions in Seoul, Incheon, and Gyeonggi.
TRANSPORTATION

Gimpo International Airport Arrival lobby

Incheon International Airport Terminal 1, Arrival Hall

Seoul Station

Central City Terminal

SHOPPING & CONVENIENCE STORE
Lotte Duty Free Main Store,
Lotte Duty Free World-Tower Store


AKAND HONGDAE

7-ELEVEN The Chinese Embassy in Korea branch,
KT Gangnam branch

BANK

SHINHAN BANK Myeondong branch

WOORI BANK Myeongdong Financial Center branch

HOTEL

Novotel Ambassador Seoul Gangnam

Le Méridien Seoul

Best Western Premier SEOUL GARDEN HOTEL

ATTRACTIONS & ACTIVITIES

TRICKEYE MUSEUM

Imjingak Observatory

EVERLAND Guest Service Center

RESORT COMPLEX

PARADISE CITY