About Tourist Service Center
As more and more foreign travelers visit provincial regions of Korea, the Visit Korea Committee is operating the Tourist Service Center. A mobile integrated convenience center for foreign tourists, it is sent to various mega events and local festivals held throughout Korea and there provides services that meet foreign visitors' needs to help relieve their difficulties and inconvenience during tours in provincial areas.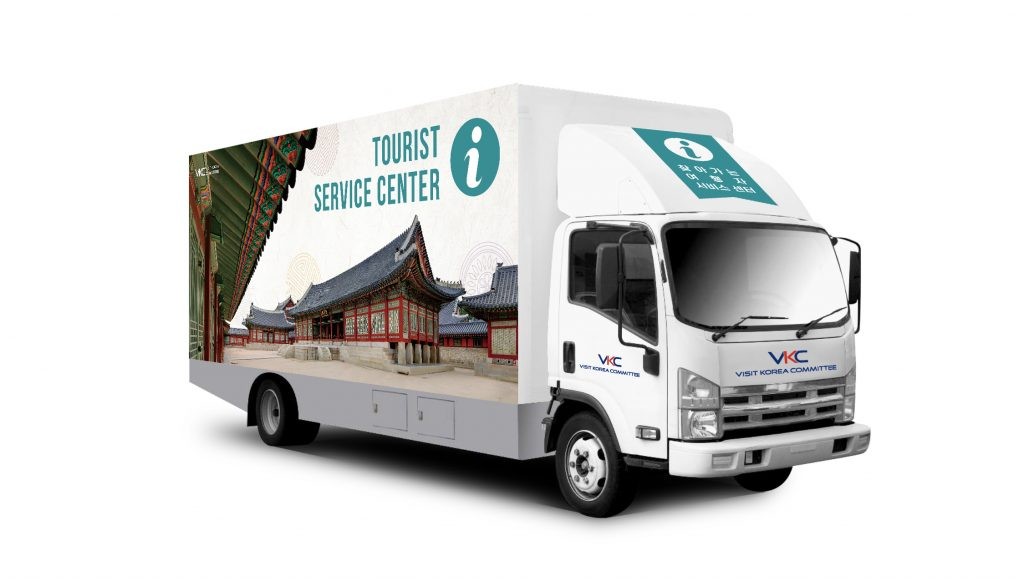 Program Name
Tourist Service Center
Services Provided
Local information, language interpretation, free Wi-Fi Internet, commemorative photo shoots, cell-phone charging, printing, beverage service, tourist information, etc.
Main Destinations of 2019
Haeundae Polar Bear Festival, Anseong Ice Fishing Festival, Seoul Music Award, 2019 Korea Grand Sale, Honam International Tour EXPO 2019, Seoul International Tourism Industry Fair 2019, Korea Sale FESTA 2019
Main Destinations of 2018
Korea Grand Sale 2018, Korea Travel Expo, Honam International Tour EXPO, 2018 Daejeon Craft Beer & Music Festival, Korea World Travel Fair, Boryeong Mud Festival, Daegu Chimac Festival, Korea Sale FESTA 2018
Main Destinations of 2017
Seoul Music Awards, Korea Grand Sale 2017, Korea Travel Expo, Goryeong Daegaya Festival, Wando Seaweeds Expo, The 32nd Korea World Travel Fair, Hanatour International Travel Show, Chicken and Beer Festival, Korea International Tourism Show