Title
K-pop Fans! Grab the Chance!
Author
Visit Korea Committee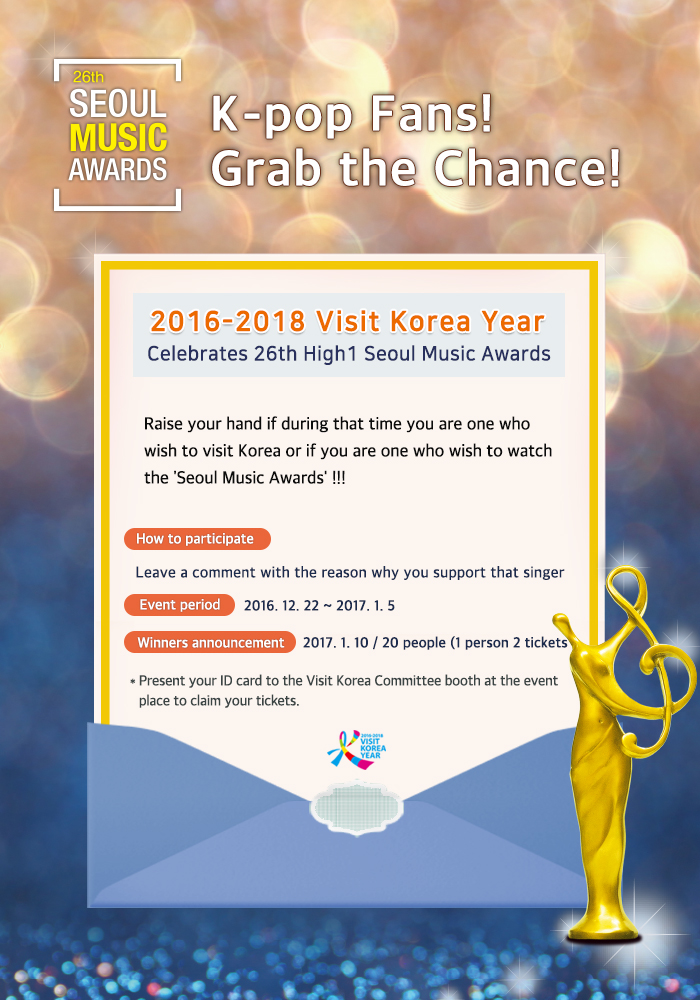 On January 19 (7pm) at Seoul Jamsil Indoor Stadium (Jamsil Arena) 'Seoul Music Awards' will be held. Raise your hand if during that time you are one who wish to visit Korea or if you are one who wish to watch the 'Seoul Music Awards'!!! All you need to do is to leave a comment of the singer (group) you support and the reason for it. We will randomly choose 20 people who will receive an invitation ticket.
For detailed information about Seoul Music Awards check
http://awards.sportsseoul.com/
How to join
: Tell us the reason why you support that singer and we will randomly choose the winners (20 people, 1 person 2 tickets)
Event Period
: 2016.12.22 (Thursday) ~ 2017.01.05 (Thursday)
Winners announcement
: 2017.01.10 (Tuesday)
*Present your ID card to the Visit Korea Committee booth at the event place to claim your tickets.
*When you leave a comment in this event, please use the same name as indicated on your ID card.