Visit Korea Committee Activities
Title
Appointment Ceremony for the Members of the 12th Workers' National Smile Team
Appointment Ceremony for the Members of the 12th Workers' National Smile Team
On December 19th, the Visit Korea Committee appeared at the National Museum of Korea in Yongsan!
What's going on?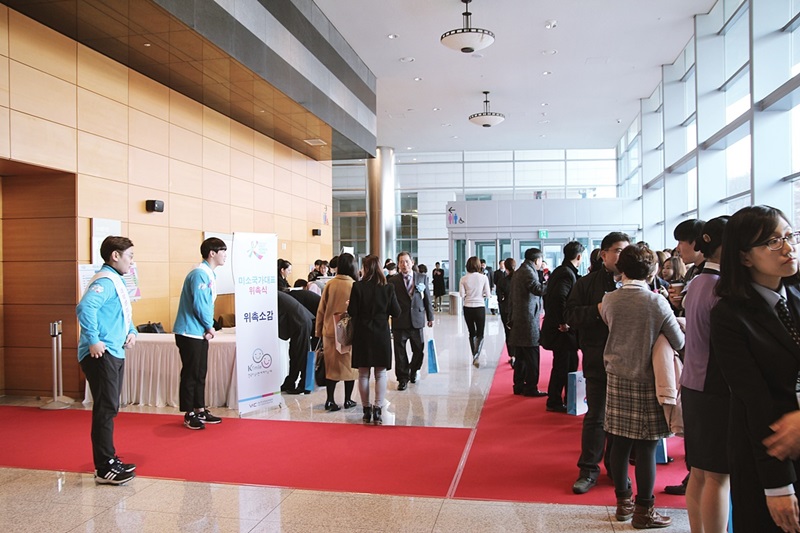 Actually, the appointment ceremony of the 12th Workers' National Smile Team is held today!
The lobby in front of the main hall was so busy and crowded with many events before the ceremony.
The members of the Workers' National Smile Team are model workers of the tourism industry who represent Korea in welcoming foreign tourists at different points of contact with them,
including in transportation, restaurants, shopping, accommodation, ports of entry/exit, and sharing of tourist information.
These members are appointed through recommendations of local governments and related organizations and subsequent screening by an assessment committee. They publicize their own welcome practices and make contributions to the creation and spread of a welcoming atmosphere at their respective workplaces.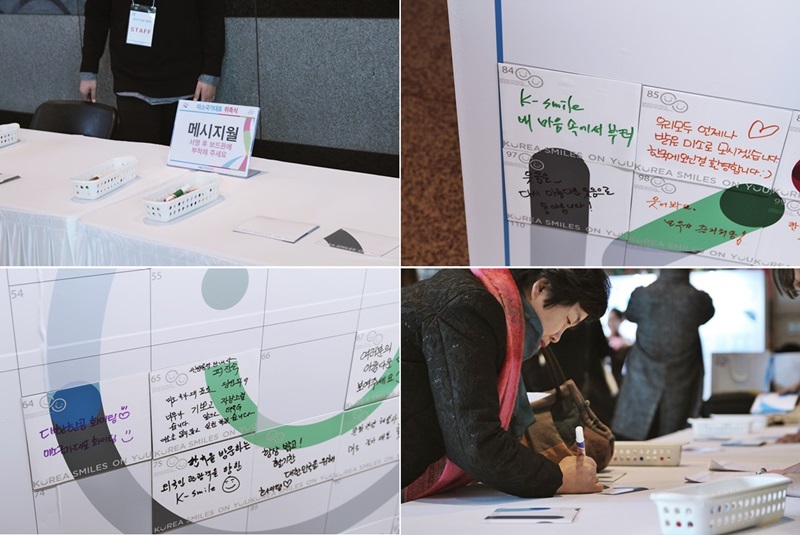 The message wall became covered by messages written by the new appointees out of their sincere heart wishing for Korea to be fuller of smiles!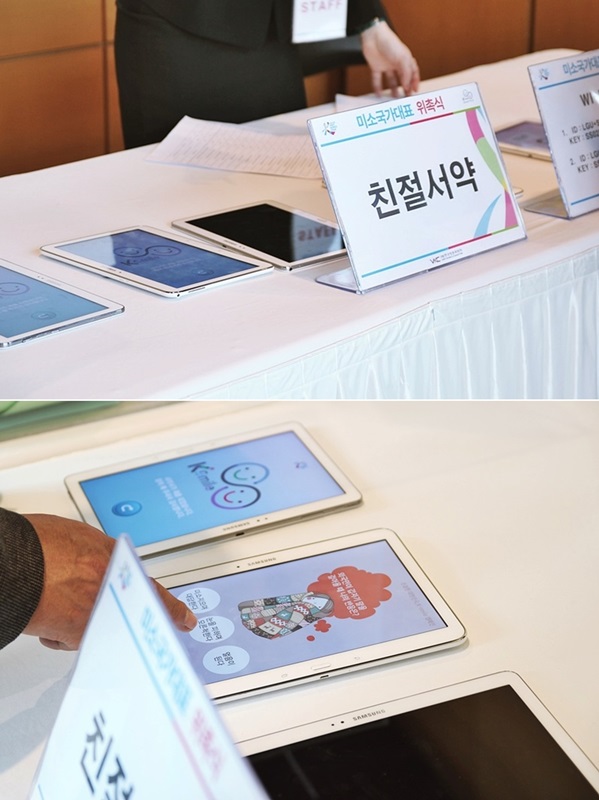 The pledges of kindness made on tablet PCs drew attention.
Everyone actively made his/her own pledge with a strong interest!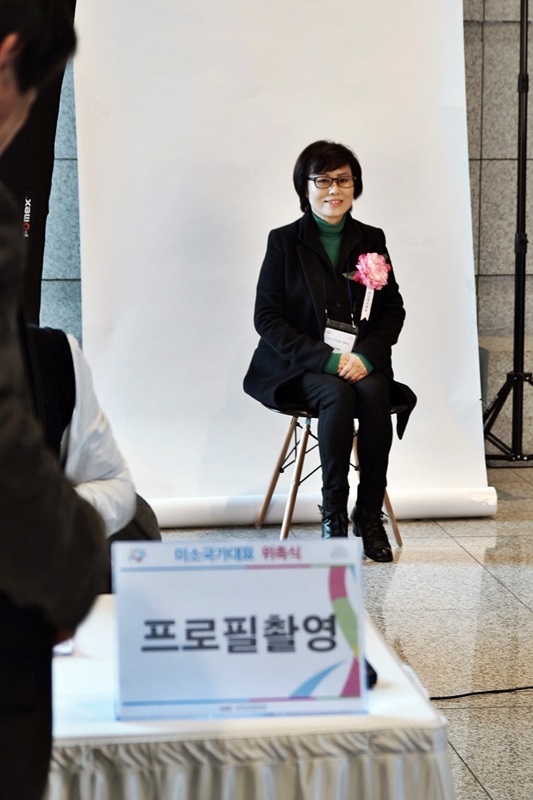 A profile photo was taken to preserve the proud and beautiful smile of every member.
One of the awarders of appointment certificate letters said that the most beautiful flower is a smile flower.
Maybe everyone has a smile flower corsage on their left chest. 😀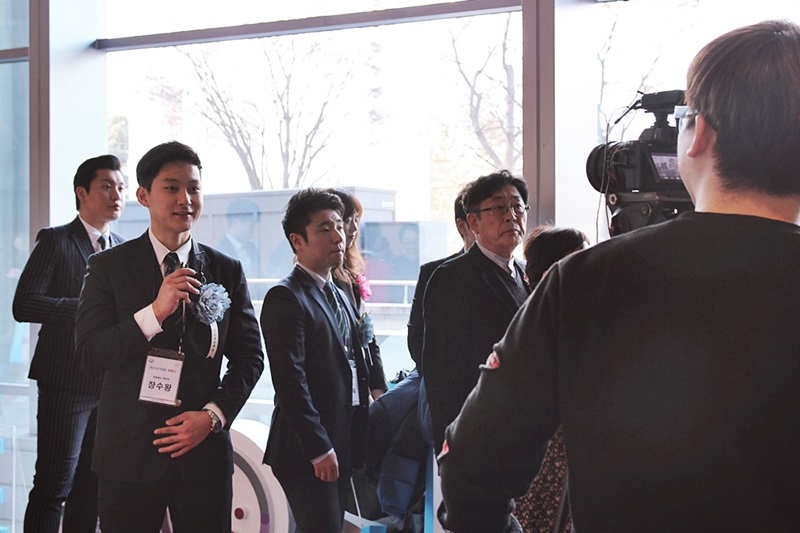 A video interview was conducted on a side.
I'm looking forward to watching the video containing today's excitement and honorable moments!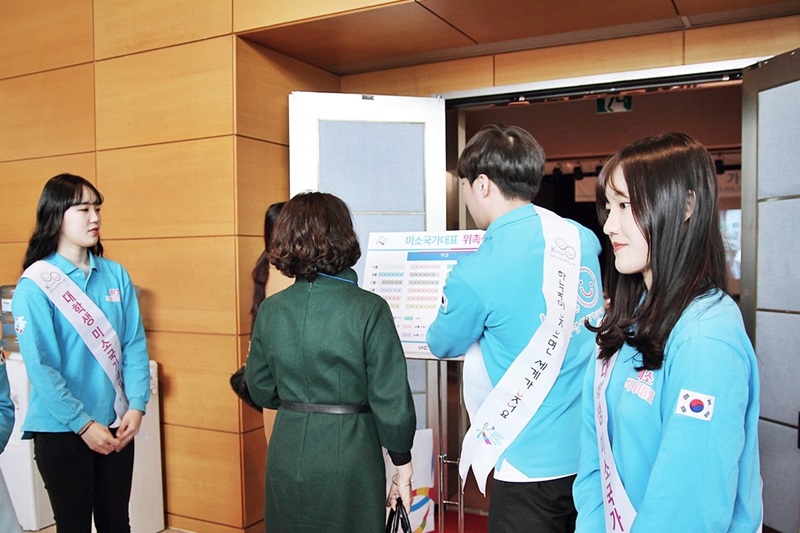 University Students' National Smile Team members helped with the event today as well. 🙂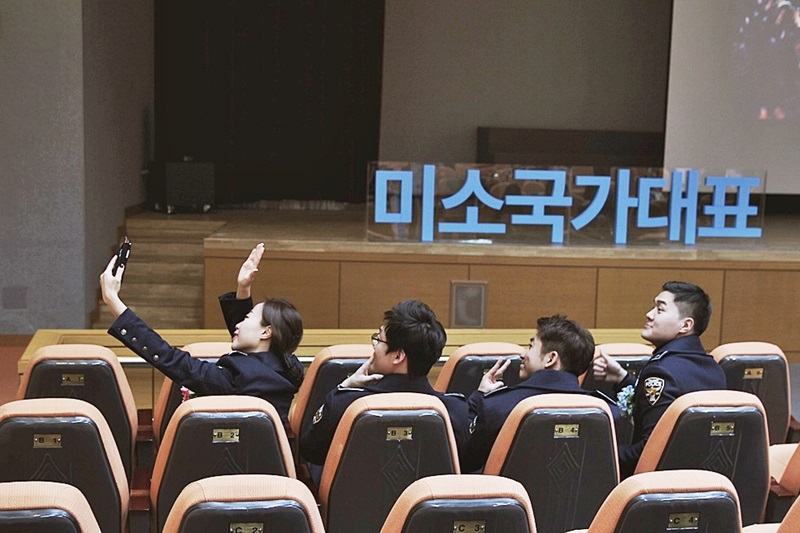 Inside the event hall, some people had already taken up seats and were taking commemorative photos.
Even their backs seem as if they're also full of smiles, right?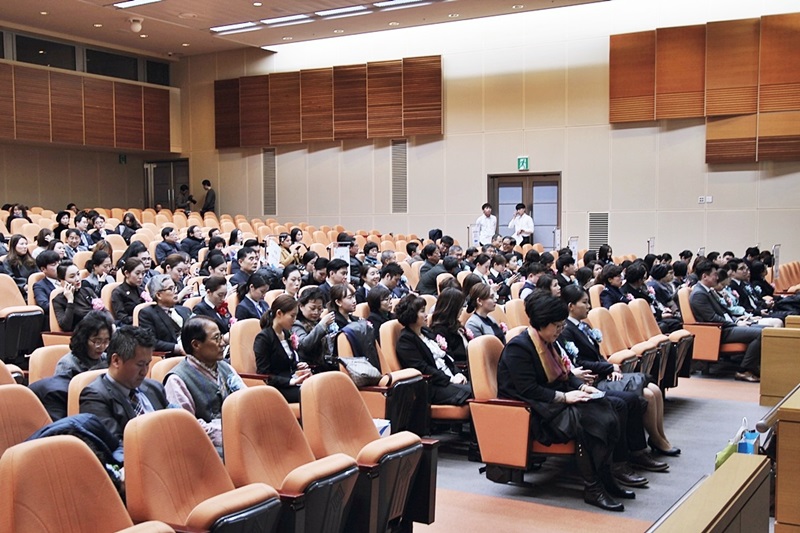 At 3 pm, the 132 members of the Workers' National Smile Team filled up all seats.
Until now, a total of 548 people have been appointed as members of the Workers' National Smile Team and thus active in practicing the K-Smile Campaign!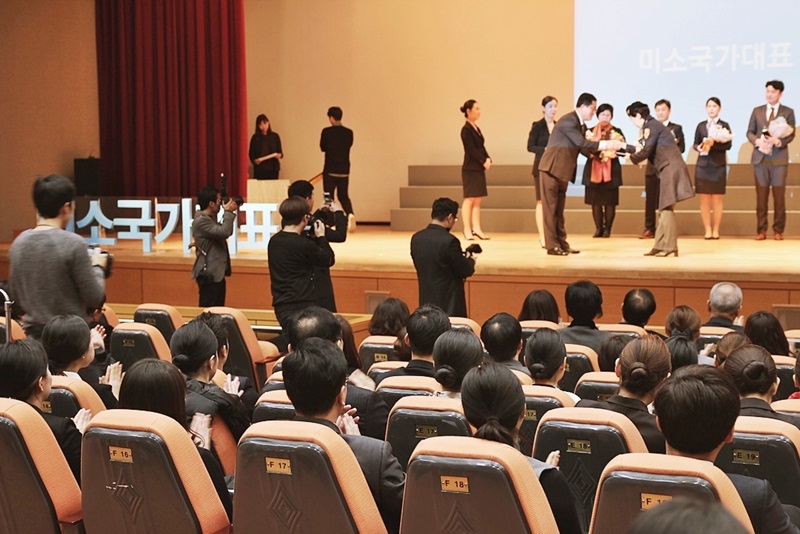 Unfortunately, we could not award everyone an appointment certificate letter due to time limit,
but we would like to send a congratulatory applause to the workers who received the certificate representing their respective points of contact with tourists!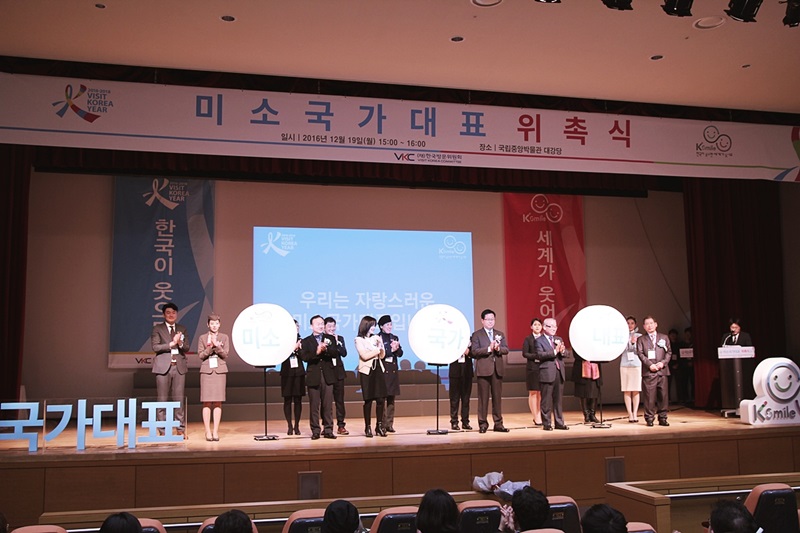 This performance was the grand finale of the appointment ceremony.
Three giant balls appeared, reading "National Smile Team."
They lighted up as Vice Chairman Kim Hong-ju, Secretary-General Han Kyung-ah, and 10 representatives of tourist points put their hands on the balls at the same time.
And two banners were rolling out down the wall, showing the K-Smile slogan. 🙂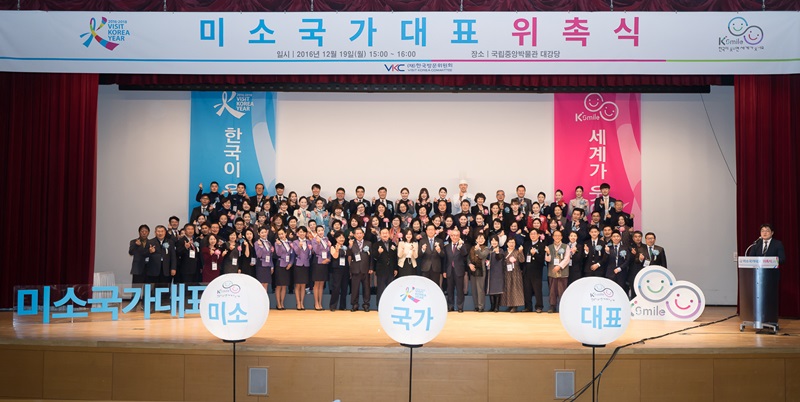 Today's event ended with commemorative photographing with all the attendees.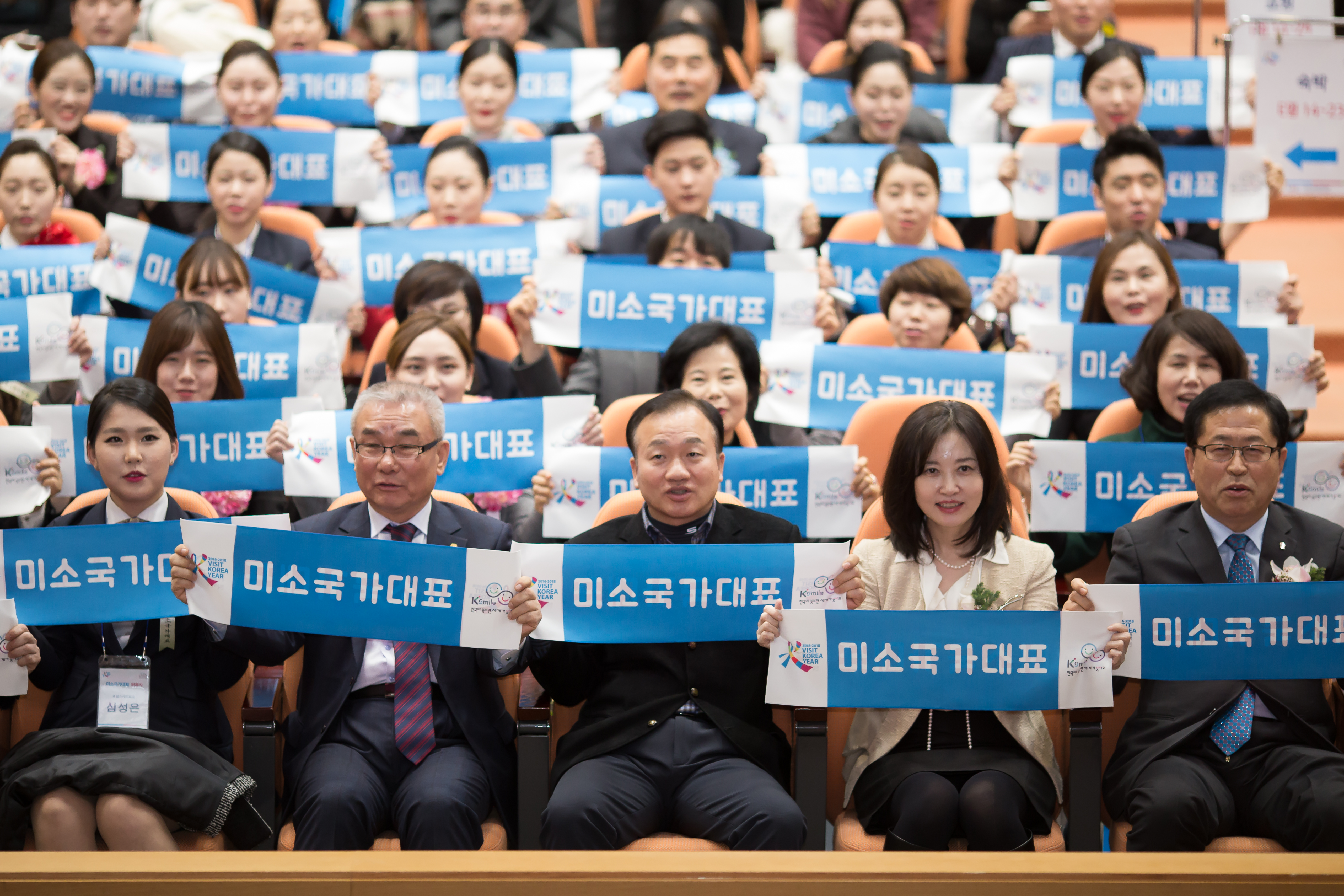 We look forward to the smiles and kindness of these members of the Workers' National Smile Team from now on.
Korea's smiles ♬ make the world smile. ♬ K-Smile!
Let's make a Korea where to want to visit again!