2016–2018 Visit Korea Year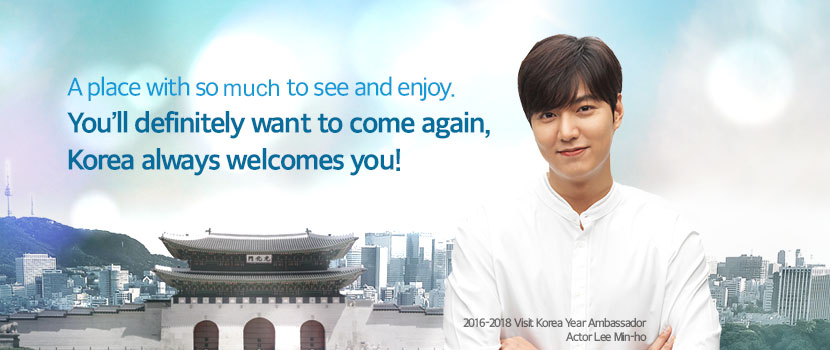 Intensifying international competition has highlighted the importance of the tourism industry, which offers chances for the attraction of foreign tourists. As a result, countries are pouring more and more efforts into occupying a greater tourism market share.
The Visit Korea Committee's previous "2010–2012 Visit Korea Year" campaign served as a great contributor to the achievement of attracting 10 million foreign tourists. Based on this experience, we have launched its subsequent campaign—the 2016–2018 Visit Korea Year—for the purpose of consolidating the foundation for qualitative development that matches the quantitative growth in the Korean tourism industry.
The Visit Korea Committee is the only public corporation in the Korean tourism industry. Based on a public–private partnership, its private entities lead initiatives and public associates support them, thereby enjoying the advantages of both sectors. The committee is now promoting a kindness campaign and other programs targeted at foreign independent travelers (FITs).
A 3-year plan established for the 2016–2018 Visit Korea Year

A proclamation ceremony held for the 2016–2018 Visit Korea Year at Heungnyemun Gate of Gyeongbokgung Palace on Nov. 6, 2015
※ Attended by around 1,000 visitors, including the president, the minister of Culture, Sports and Tourism, and other VIPs, and staff members in the fields of tourism, foreign tourists, and the general public.

Programs of the 2016–2018 Visit Korea Year initiated in January 2016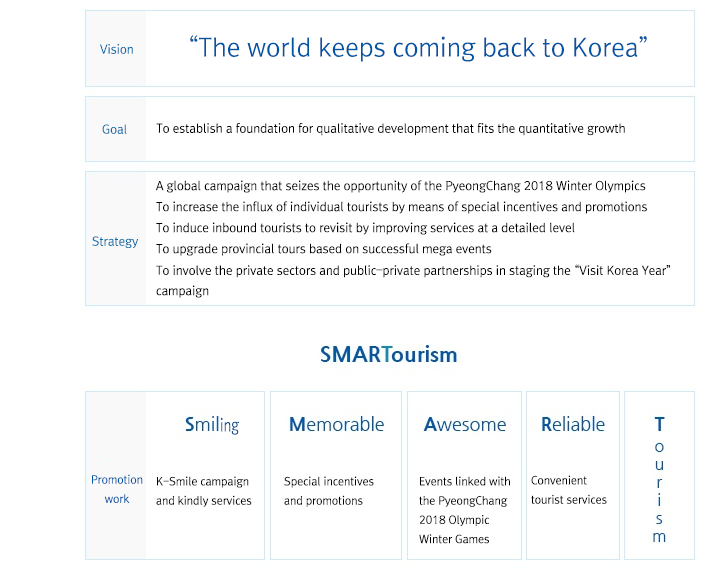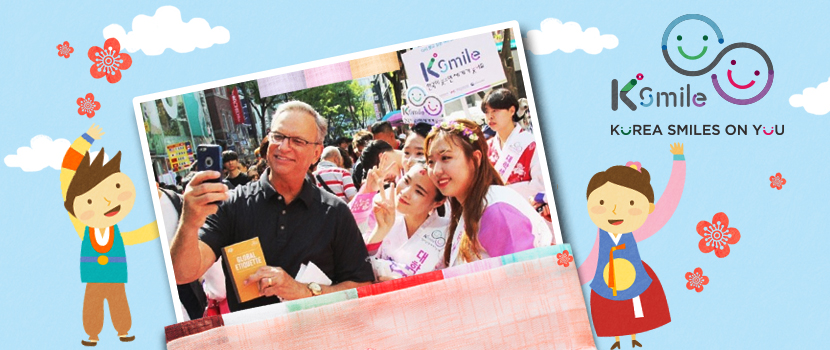 KOREA SMILES ON YOU!
The Visit Korea Committee is staging the "K-Smile Campaign" to raise the satisfaction of foreign tourists and encourage them to visit Korea again.
The K-Smile Campaign is a nationwide citizen-participatory kindness campaign that aims to create a Korea foreign tourists want to visit again by welcoming them with Korean kindness and smiles. The campaign is joined by tourism-related agencies and associations, economic organizations, private corporations, and local governments.
The form of the letter K, a symbol representing the 2016–2018 Visit Korea Year, is a design derived from the English initial or Korea. Its purpose is to enhance the awareness of the letter K as a Korean global tourism brand.
Conveying connection and expandability from the 2010–2012 Visit Korea Year, this design portrays Korean fascination and the future-oriented image of Korea. In addition, the design expresses various aspects of Korean culture with the traditional saekdongot, a cloth with stripes of many colors.
The new emblem for the Visit Korea Year is a K with the motif of knots and twists of wrapping cloth used to wrap presents given with sincerity in ancient times. This symbolizes the kindness of Koreans and the wish to entertain foreign tourists.