Message from the Chairman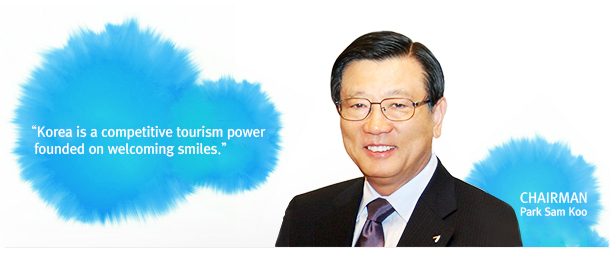 Thank you for visiting our website.
I am Park Sam-Koo, the chairman of Visit Korea Committee.
More and more foreigners are visiting South Korea every year. As the global tourism market keeps expanding, Korea is also in a fierce competition, particularly with other Asian-Pacific countries. This means that now we need to create Korean-specific, differentiated tourist services along with maintaining our practice of hospitality.
Based on the experience and knowledge we have gained from the previous campaign and in close cooperation with many in the private sector, we are exerting efforts to ensure the success of the "2016–2018 Visit Korea Year" campaign.
Every year, Korea has seen a significant increase in the number of tourists. We are planning various nationwide programs for Korea to sustain its qualitative growth and emerge as a leader of the global tourism industry.
We ask for your continued interest and participation in these efforts to help foreign tourists remember the smiles of the Korean people and return here because of their good memories of Korea.