Title
K-Smile Campaign Event Held for Welcome Week for World Tourists
K-Smile Campaign Event Held for Welcome Week for World Tourists
- More than 150 people including shop owners and tourist guides based in Myeong-dong participated in spreading the culture of kindness. -
On Monday, April 17th at 11:00 am, in preparation of the upcoming Spring Welcome Week for World Tourists and in expectation of helping revitalize the tourism industry, the Visit Korea Committee (chaired by Park Sam-koo) staged a K-Smile Campaign event around Myeong-dong with the participation of the Seoul Tourism Association (chaired by Nam Sang-man) and shop owners based in the special tourist zone.
The more than 150 participants included Secretary-General Han Kyung-ah of the Visit Korea Committee, Director Ahn Joon-ho of the Tourism & Sports Bureau at the Seoul Metropolitan Government, Mayor Choi Chang-sik of the Jung-gu Office, Chairman Kim Byeong-hui of the Myeong-dong Special Tourist Zone Association, Chief Kang Eon-nam of the Seoul Namdaemun Police Station, Chairman Yang Yeong-cheol of the Da-dong and Mugyo-dong Special Tourist Zone Association, as well as local shop owners, tourist guides, and tourist officers. Holding a sash and picket printed with promotional words about the K-Smile Campaign, the participants handed out a global etiquette guide and promotional materials on the culture of kindness to stores from door to door around Myeong-dong, while encouraging the store workers to welcome foreign tourists with kindness.
The committee announced that it, along with the Seoul Metropolitan Government and the Seoul Tourism Association, will co-host the 2017 Welcome Week for World Tourists starting with an opening ceremony on Thursday the 27th and operating for 10 days from Friday, April 28 to Sunday, May 7.
During this peak tourist season that coincides with Golden Week in Japan, Labor Day in China, and consecutive holidays in South Korea, the welcoming center installed in each special tourist zone of Seoul will be offering Korean traditional games, different events, and other enjoyable activities, as well as some convenient services, such as tourist information of Seoul and tour guiding interpretation, as part of raising the satisfaction of visiting tourists.
"As the kindness culture campaign event was successfully and extensively staged with the participation of many local shop owners who come in direct contact with foreign tourists, we expect that foreign tourists will surely experience the kindness of Koreans during the Welcome Week," remarked Secretary-General Han Kyung-ah of the committee. "As part of the 2016–2018 Visit Korea Year campaign, we'll continue our efforts to spread the culture of kindness so that foreign tourists may find themselves much more satisfied with their tours in Korea," she added.
For inquiries, please contact Assistant Manager Cho Hyun-joon, Service Improvement Team (+82-2-720-7325, chj1014@vkc.or.kr).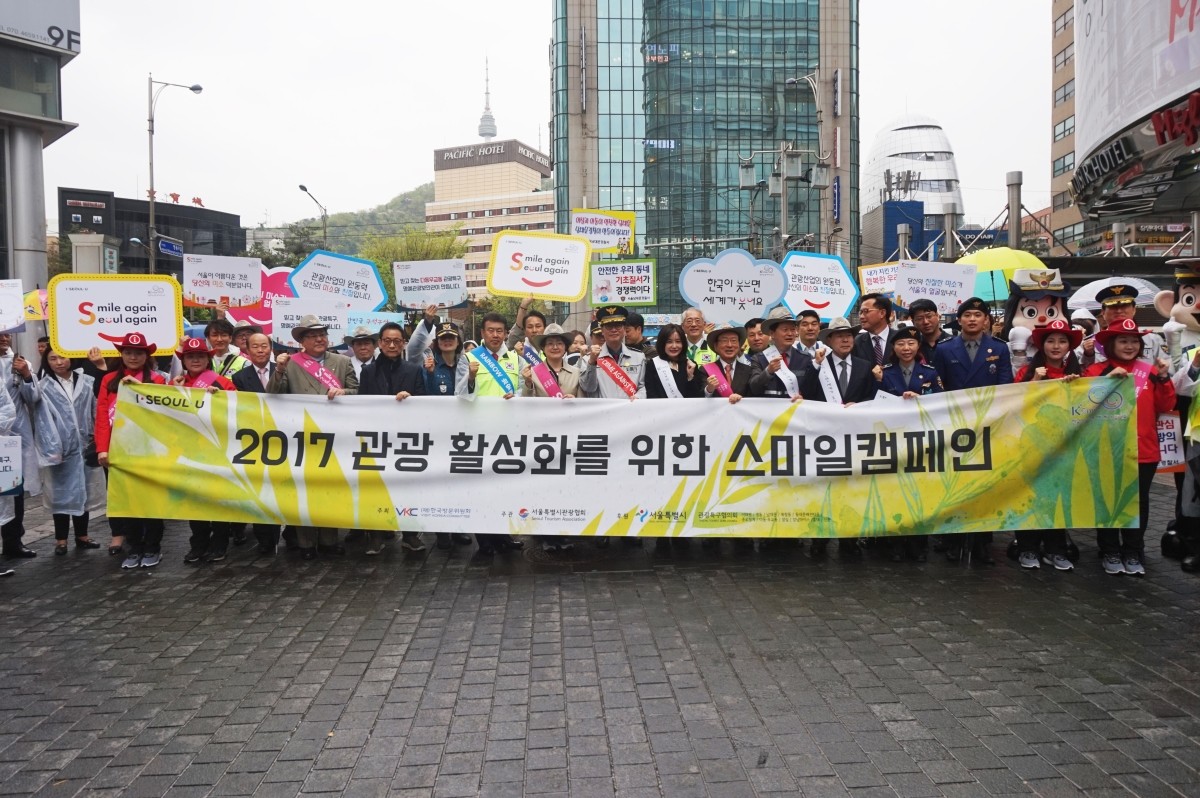 < K-Smile Campaign Event for Welcome Week for World Tourists; Visit Korea Committee Secretary-General Han Kyung-ah stands sixth from the right.>
◆ What is the K-Smile Campaign?
The K-Smile Campaign is a nationwide kindness spreading campaign arranged for the 2016–2018 Visit Korea Year and the upcoming PyeongChang 2018 Olympic Winter Games. It is purposed to make "a Korea foreign tourists want to visit again" by welcoming them with a warm heart and bright smile.
The Visit Korea Committee strives to boost interest and participation in the K-Smile Campaign of the Korean public and particularly workers in the tourist industry, including lodging, food services, transportation, and shopping. It is also fully focused on the quality growth of tourism in Korea and attracting more foreign tourists.