Smart Tourist Information System
Check out the Smart Tourist Information System and get useful tourist information and various services! Smart Tourist Information Systems located in the major areas of tourism and transportation will guide you with useful tourist information. You will be provided with not only general services such as location-based services, AI recommendations, translation services, and real-time traffic information, but also enhanced services such as free WiFi, transit card balance check, wireless charging, and temperature self-check.Ask Smart Tourist Information System questions about the location of different places throughout Korea using your voice!
Smart Tourist Information System will answer any questions you have about tourism in Korea.
Get essential services, such as location-based services, customized recommendations of tourist attractions, translation, transportation information in real time, as well as a variety of tourism information like major tourist attractions, shopping areas, restaurants, festivals and performance information in Korea.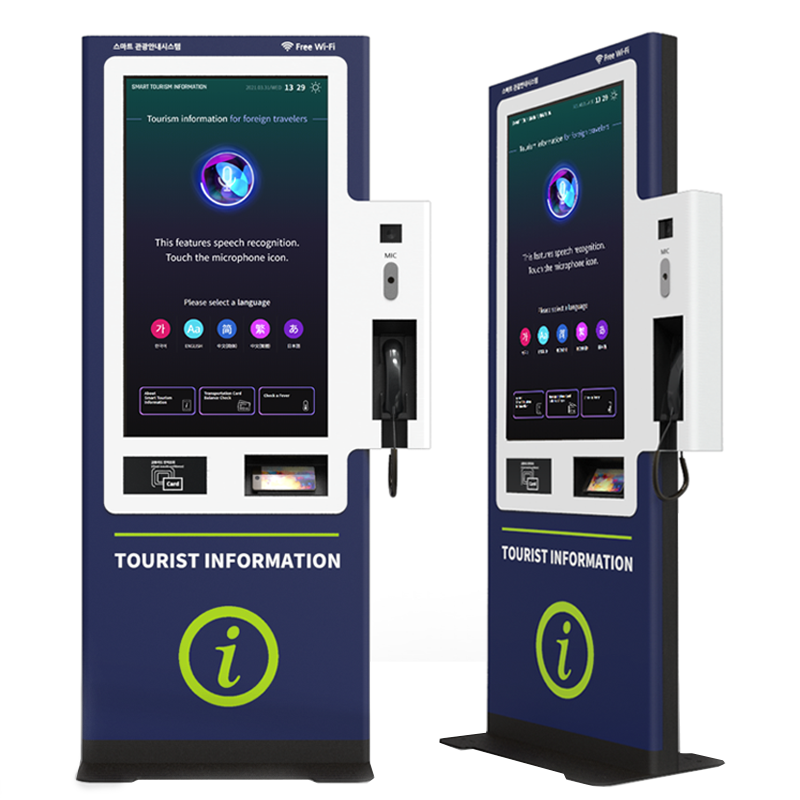 1330 Korea Travel Helpline


Korea Travel Hotline 1330 open all year round

Restaurant


Information on and reservation services of a variety of restaurants in Korea

International TaxiInformation on taxis and booking services.
Korea Travel Tips
Provides useful information such as the KOREA TOUR CARD, tourist police, tax refunds, and countermeasures for emergency situations
Show Leaflet
Scan the QR codes to download e-books including Korea tourist information
Real-time Services
Provides real-time information such as local weather, world time and date, and exchange rates
Amenities
Free WiFi, transit card balance check, wireless charging, and temperature check
Voice Search
Korea tourist information search through multi-language voice recognition
Tourism
Information on tourist attractions, shopping, traditional markets, festivals, exhibitions, and performances in Korea
Transportation
Information on domestic/international flights and KTX trains in real time
Interactive Tourist Map
Interactive tourist map, tourist attractions map, directions, and subway map
Personalized Trip Course
Multi-language voice recognition that recommends user-tailored travel routes
AI Translation
Multi-language voice recognition for Korean translation
TRANSPORTATION
Gimpo Int'l Airport, Gimhae Internat'l Airport, Daegu Internat'l Airport, Yangyang Internat'l Airport, Cheongju Internat'l Airport, Muan Internat'l Airport, Jeju Internat'l Airport, Gwangju Airport, Ulsan Airport, Yeosu Airport,  Gunsan Airport, Sacheon Airport, Wonju Airport, Pohang Gyeongju Airport
KTX
Seoul Station,Yongsan Station, Busan Station, Dongdaegu Station, Mokpo Station, Yeongdeungpo Station, Cheongnyangni Station, GwangjuSongjeong Station
Daejeon Station, Suwon Station, Gangneung Station, Jeonju Station, Suncheon Station, Yeosu-Expo Station, Singyeongju Station, Andong Station,
Seodaegu Station,
Pyeongtaek Station

Airport Railroad
Incheon Int'l Airport Terminal 1 Station, Seoul Station, Hongik Univ. Station, Gongdeok Station, Gimpo International Airport Station, Digital Media City Station, Incheon Int'l Airport Terminal 2 Station
Jungangno Station (Daegu Metro Line 1)

Central City Terminal

Dongdaegu Bus Transfer Center

Incheon International Ferry Terminal

Busan Port International Passenger Terminal

Mokpo Coastal Ferry Terminal

Jeju International Ferry Passenger Terminal
SHOPPING & CONVENIENCE STORE
Lotte Duty Free Main Store, Lotte Duty Free World-Tower Store
AK PLAZA HONGDAE
BANK
SHINHAN BANK Myeondong branch
WOORI BANK Myeongdong Financial Center Branch
ATTRACTIONS & ACTIVITIES

Visit KOREAN HERITAGE Campaign, Incheon International Airport PR Center
Hongdae Pedestrian-friendly Street

Jungmun Tourist Information Center
 HiKR GROUND
RESORT COMPLEX
PARADISE CITY PLAZA
TRANSPORTATION

Gimpo Int'l

Airport,


Gimhae Internat'l Airport,
Daegu Internat'l Airport,
Yangyang Internat'l Airport,
Cheongju Internat'l Airport,
Muan Internat'l Airport,
Jeju Internat'l Airport,
Gwangju Airport,
Ulsan Airport,
Yeosu Airport,
Gunsan Airport,
Sacheon Airport,
Wonju Airport,
Pohang Gyeongju Airport
Airport Railroad
Incheon Int'l Airport Terminal 1 Station,
Seoul Station,
Hongik Univ. Station,
Gongdeok Station,
Gimpo International Airport Station,
Digital Media City Station,
Incheon Int'l Airport Terminal 2 Station
KTX


Seoul Station,


Yongsan Station,
Busan Station,
Dongdaegu Station,
Mokpo Station,
Yeongdeungpo Station,
Cheongnyangni Station,
GwangjuSongjeong Station,
Daejeon Station,
Suwon Station,
Gangneung Station,
Jeonju Station,
Suncheon Station,
Yeosu-Expo Station,
Singyeongju Station,
Andong Station,
Seodaegu Station,
Pyeongtaek Station
Central City Terminal
Busan Port International Passenger Terminal
Incheon International Ferry Terminal
Dongdaegu Bus Transfer Center
Jungangno Station (Daegu Metro Line 1)
Mokpo Coastal Ferry Terminal
Jeju International Ferry Passenger Terminal
SHOPPING & CONVENIENCE STORE
Lotte Duty Free Main Store,
Lotte Duty Free World-Tower Store

AK PLAZA HONGDAE
BANK

SHINHAN BANK Myeondong branch

WOORI BANK Myeongdong Financial Center Branch
ATTRACTIONS & ACTIVITIES
Visit KOREAN HERITAGE Campaign, Incheon International Airport PR Center
Hongdae Pedestrian-friendly Street
Jungmun Tourist Information Center
HiKR GROUND
RESORT COMPLEX

PARADISE CITY PLAZA