Title
[#EVENT] Put your hands up if you'd like to watch the Seoul Music Awards!
Author
Visit Korea Committee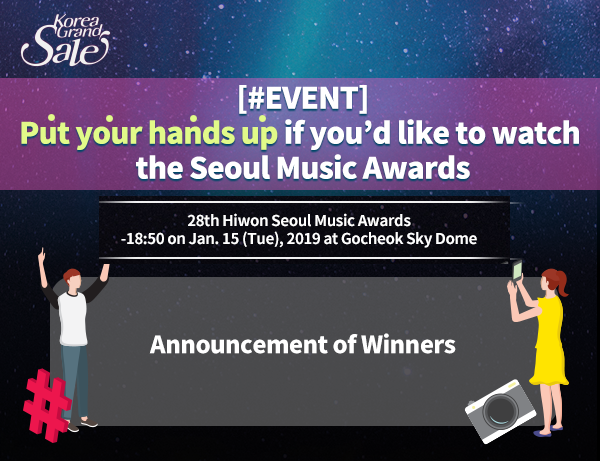 Thank you to everyone who participated in the Seoul Music Awards Event, held in celebration of the upcoming Korea Grand Sale.
Below is a list of the lucky winners, selected from among the many participants.
Winners are asked to confirm their availability to attend the Seoul Music Awards and send a private message containing your name (as on personal identification or passport) to the English Facebook page of the Visit Korea Committee by January 6. (Those who do not respond shall be deemed as unavailable to attend, and prizes will be withdrawn.)
https://www.facebook.com/visitkoreayear
Winners can collect their tickets to the Seoul Music Awards from 11 a.m to 6 p.m. on January 15 by presenting proof of identity (e.g. passport, ID card).
| | |
| --- | --- |
| R**HZEL E. UNDAY | r**hzelelsisura@gmail.com |
| D**yn Salva Dumalag | h**mdylyn@gmail.com |
| G**tchen Cuizon | g**tchencuizon@ymail.con |
| S**i Nur Aisyah bt.Chaizul | a**yahchaizul@gmail.com |
| L**ise Caroline Adubal | l**isecaroline17@gmail.com |
| T**M KOK HAO | s**ekokhao@gmail.com |
| N**EEN QISTINA BINTI ROSMAN | n**eenqistina27@gmail.com |
| I**ay Hyacinth Ledesma | i**ayledesma@gmail.com |
| L** Pui Shan | l**.shan@gmail.com |
| N**ul Izzah binti Mohd Razali | i**ahmoraa@gmail.com |
| K**s Ann E. Lopez | l**ezkrisann@yahoo.com |
| J**lyne Jornales | a**nejornales@gmail.com |
| N** Ratna Nadhirah | n**ratnanadhirah@gmail.com |
| N**jeehan | n**jeehan1500@gmail.com |
| M**id Mushtaq | r**amajid07@gmail.com |
| B**oke Finnicum | b**okefinn95@gmail.com |
| C**ng Yan Xin | y**xin2000.xy@gmail.com |
| J**n Rafael Junsay | r**ael.junsay@yahoo.com |
| N** NALISAEDORA BINTI ABD MUTALIB | l**saa301@gmail.com |
| C**herine Faith Yang | c**herine.skandar@gmail.com |
| R**ane Ferriol | r**aneferriol@gmail.com |
| S**phanie Claire Montalvo | s**phie.montalvo@gmail.com |
| M** Azaleena binti Azlee | e**elurve@gmail.com |
| R**vianty Rahmat | r**vianty24@gmail.com |
| G**ta Maria Wibisana | g**tamaria04@gmail.com |
| R**helle Alcantara | r**helleb2@yahoo.com |
| N** Meryam Nabila Sunaim | t**nistensai@yahoo.com |
| I** Alfiyanti | i**.alfiyanti84@gmail.com |
| S**iah Mohd Din | s**iahmohddin@yahoo.com |
| N**yen Ngoc Nhu Thao | n**yenngocnhuthao.10a9@gmail.com |
| N**a Sophia Bureros | n**ureros@gmail.com |
| P**stine Blairney V. Aspiras | p**stineblairney@gmail.com |
| N**in adlina binti Mohd nor | a**inanurin7@gmail.com |
| I**en rose tana | i**veikon20@gmail.com |
| N** Jing Yu | r**nstormlit@hotmail.com |
| S**ba | s**ba07091998@gmail.com |
| U**ku nur azureen | d**ns_rid9@yahoo.com |
| J**nnaliza almaiz | j**nnalizaalmaiz@yahoo.com |
| P**eri Insyiraah Aswadi | s**hilaqila7@gmail.com |
| 木**結唯 | K**ui4430@gmail.com |
| M**I FUJITANI | p**cante@gmail.com |
| 原**な | r**arasekaowa@yahoo.co.jp |
| 増**い | b**vi1017@icloud.com |
| 金**恵 | k**hihu-0929.34@i.softbank.jp |
| 赤**紀子 | h**iken06@gmail.com |
| 田*萌 | m**1002_cl_lw@yahoo.co.jp |
| H**ayama Rina | s**14in@naver.com |
| S**O ASUMI | s**ar.rusoran-snsd@ezweb.ne.jp |
| 中**音 | j**miichan.love@icloud.com |
| 野** 菖女 | a**me.120508@softbank.ne.jp |
| 田**佳苗 | k**aestage@yahoo.co.jp |
| 真**奈子 | n**96495@gmail.com |
| 山**花 | j**ii_1013@docomo.ne.jp |
| 盧*軒 | m**kylu0410@gmail.com |
| 陳*雯 | w**dy25191061@gmail.com |
| T**NG SHOUTZU | b**ymiho@hotmail.com |
| 蔡*秀 | a**242627554@gmail.com |
| K**G YICHI | l**g20720@gmail.com |
| T** Cheuk Yan | p**fectperfecttam001@gmail.com |
| 蔡*安 | s**0342@gmail.com |
| 李*蓁 | J**sie201867@gmail.com |
| 鐘*惠 | i**jay37@gmail.com |
| 馬*惠 | e**vcindy2001@yahoo.com.tw |
| 李*瑩 | w**3207@gmail.com |
| 吳* | w**o.grace@gmail.com |
| 張*儀 | j**l73843161@hotmail.com |
| 李** Lee pei hsuan | s**4212004@gmail.com |
| 鄭*茜 | j**nifer860531@gmail.com |
| 賴**(LAI YING FAN) | e**lai1017@gmail.com |
| T**g Konny Guoyi | k**nytang@gmail.com |
| 鄭*靜 | t**ialana0531@gmail.com |
| C**ANG YA TING  莊雅婷 | y**ingchuang530@gmail.com |
| 陳*文 | w**75772567@gmail.com |
| L**NG NGAN YIN | b**t.korea@yahoo.com.hk |
| 余*菱 | c**s30826@gmail.com |
| 高*瑜 | j**6062000@yahoo.com.tw |
| 陳*湄 | b**tamy14@gmail.com |
| 蘇*佳 | k**5203@gmail.com |
| 劉*玉 | V**letic1508.hyl@gmail.com |
| M**g Hiu Ying | c**herinemung93@gmail.com |
| L** JIA JIA | s**tsu@gmail.com |
| 莊*君 | k**520g@yahoo.com.tw |
| K**CHIEH YU | k**a0699@yahoo.com.tw |
| 楊*勛 | s**n141283@gmail.com |
| C** Tsz Ching | c**tszching2561@gmail.com |
| C**NICHEN | b**6b626@hotmail.com |
| 黃*芸 | k**gkong1000146@gmail.com |
| 黃*庭 | t**a0912.huang@gmail.com |
| N**Chi Kwan | c**rrypandang@gmail.com |
| W** Lai Fong | y**nne-fong1314@hotmail.com |
| 黎*婷 | 9**326743@qq.com |
| 贾*楠 | D**ria13@163.com |
| 郭*羽 | 1**8649239@qq.com |
| W**DAI YU | s**s419@gmail.com |
| 簡*琳 | l**da99152109@gmail.com |
| H**EH MENGCHIEH | m**950311@gmail.com |
| 苏**소완녕 | t**ntian_suwy@126.com |
| 朱*琪 | 1**6332835@qq.com |
| 曲* | e**ejj@qq.com |
| 樂*慧 | y**h1204@gmail.com |